Hi there!
I am so honored that you would choose to spend a few minutes of your time here with me. I am passionate about the Word of God and its power to transform lives. Why? Because my life has been radically transformed.
I am dedicated, through ShawnLantz.com, to helping women like you apply God's Word to your everyday life.
Women are looking for answers to life's deepest challenges, but are often looking in places or in people where those answers cannot be found. God's Word, the Bible, has the answer for every problem we encounter.

I have come to believe the following as I minister to women:
Women are hugely influential in the lives of our families and friends. It is vital that we are grounded in God's Word.
Women are susceptible to lies that are uniquely set up for us by Satan. God's Word shows us those lies and how to avoid them.
Women are often the glue that holds relationships together. We need to understand how God's Word informs our relationships and the conflicts that arise within those relationships.
Women know just enough about God to make Him unapproachable or, worse, irrelevant to their lives. What does that mean? Our knowledge of God's Word often is based on someone else's theology or from sermons we were forced to sit through as a little girl, not from digging into the Scriptures ourselves. If we really knew God's Word, we would be awe-struck by the God it exalts!
Women who give themselves to God's Word walk in the abundant life that Jesus promises. We all can have this promise fulfilled in our lives, regardless of our circumstances!
If you are longing to become more intimate with Jesus and God's Word and start or continue to live wholly for Him, you have a fellow sojourner in me. I promise to be honest and as transparent as possible in all that you see or read in this place.

A Little Bit About Me…
I grew up with parents who have been in full-time ministry their whole married lives. I came to an early understanding of needing to accept Jesus Christ as my Savior at the age of five. I followed with believer's baptism at church camp when I was nine years old.
My childhood was filled with real life experiences that showed me Jesus was who He said He was, full of power and able to provide for my family's every need. At age ten, my family went as missionaries to the Democratic Republic of Congo. I grew up on the same mission station started by my grandparents and lived on to this day by my parents.  With all that rich, spiritual heritage, you might assume that God's Word was part of my daily life. Not so. Not until age thirty did my own love relationship with God's Word begin.
I had just given birth to my second child in thirteen months (can you say dog tired). I was six weeks post partum. My fifteen-month-old son, my six-week-old daughter, and I were all sobbing on the family room floor. I don't know what they were crying about, but I had just come to a crushing revelation that although I had everything I had ever thought would make me happy (a wonderful husband, two healthy children, a cute house), I was the most miserable I had ever been.
It wasn't a flowery prayer breathed between my sobs, but a gutteral call of desperation to the One I had become familiar with all my life, but had never truly known myself:
Jesus, I know of You, but I don't know You. Would you please show me Yourself?
No bells or whistles went off in that moment. I was still alone with my two young children shut up in a house in the middle of a Chicago winter, but the God who had promised to hear my cry for help came to me that morning. Although I couldn't have quoted the reference right then, I felt peace that had eluded me wash over me in that moment as the God of the universe stooped to hear my cry:
Call to Me, and I will answer you and tell you great and mighty things which you do not know.

Jeremiah 33:3 (NASB)
It was then that Jesus Christ became the Lord of my life.
He will do the same for you! I have shared this in a teaching session with women here.
I have struggled with issues of jealousy and unforgiveness and have written in-depth Bible studies on each of those topics.
I have been blessed to speak around the country to women about how powerful and life-changing the Word of God is. If you would like to see a sampling of some of the topics I have shared at women's events, click here.
I have a wonderful husband, Rob, and three children who are becoming more like young adults than children with each passing day, much to the chagrin of their mother. We make our home in Nashville, Tennessee.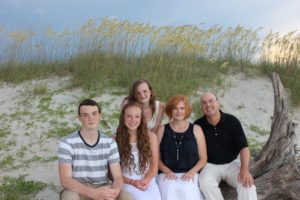 Please take a moment like my page on Facebook. Take a moment to introduce yourself there and tell me what area of your life you would like to see more tips to apply God's Word to your everyday life.
I would be honored to have you take this journey with me!
Blessings,
Shawn
Join My FREE 4 Video Course!
Lie #1: Forgiveness means I condone the wrong done to me.
Lie #2: Forgiveness means I give the same level of trust.
Lie #3: Forgiveness is a one and done event.
This FREE video course will expose 3 lies we often believe about forgiveness.